What are you grateful for?
Katie has sent me MORE smaller clothes!
Her sweet gesture fills my soul with gratitude!

Rodrigo
- April 21, 2022
My friend´s dog got lost yesterday AM, and during the day we carried out a campaign in social networks to find Frida, It was a very very long day concerned and afraid that something bad could have happened but finally, in the evening, my friend found her in a little park near her home
I could not have sleep well knowing that Frida was suffering outside, therefore, it was an absolute relief when they found her.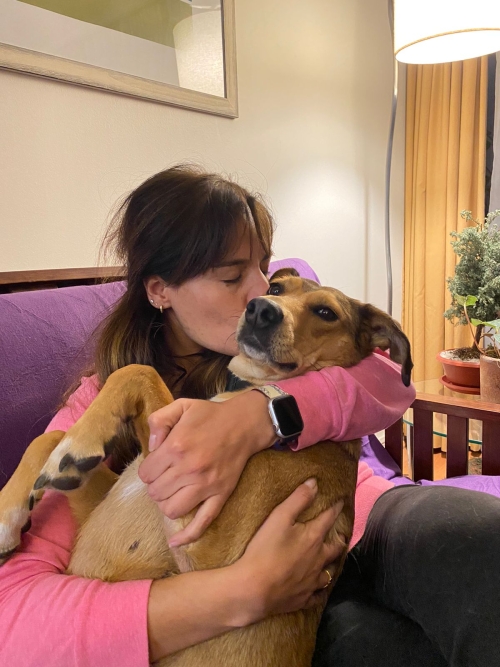 Sticking by me no matter what I say when I become anxious, frustrated, or angry. I feel grateful to have someone who is capable of giving love.
Made me feel understood and accepted. Also I become aware of the bond between us.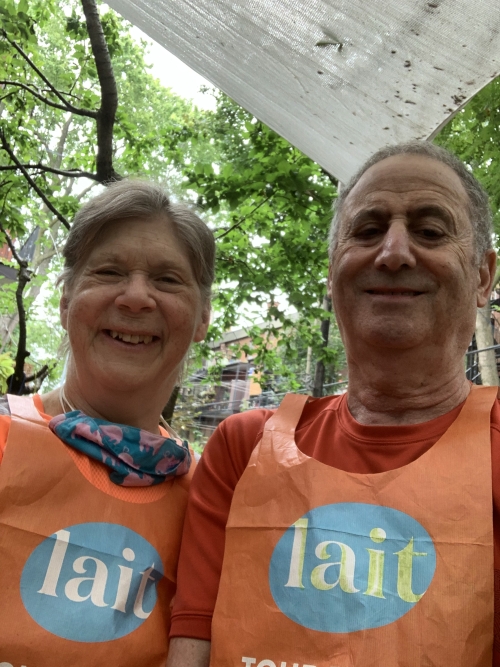 I invited Bianca and Liam to the hockey game with me.
When Bianca thanked me for the ticket and the company, my heart felt full.
I invited Bianca and Liam to the hockey game with me.
When Bianca thanked me for the ticket and the company, my heart felt full.
My Family
I'm thankful I have have such a good family with 5 kids and a wife I love
Student passed on his delight at the course
Made my efforts feel appreciated
I'm grateful that I was able to spend another holiday with my parents.
It helped me to see the positive in our relationship.
Today I got to see one of my former players who I have coached since she was 8 years old get married today. It was a proud moment for me to see my players take their next chapters in their journey into this world. It's a moment that I always look forward to weather its one of them graduating from school getting married or signing to a college I always cherish these moments.
It benefits me because she is allowing me to witness this great occasion that I get to share with all of her loved ones and that I'm considered a loved one.
As I was heading to work, I stopped by a gas station to get coffee a man approached me and asked if I had two dollars for the bus. I gave him 4 dollars so he could catch two busses or maybe get him something to drink on top of that. He asked if I was a Christian and I said yes proudly.
It made feel very good because if I ever have extra money to be able to help out someone in need I would do it 100 times over because you never know that one day you can be that person. I've been taught that growing up and I hope that is something we can teach everyone to do. It made my morning and the rest of my day feel good.
Monique started training me in mindfulness meditation, and I am so grateful for the opportunity to grow with her expertise.
This person is helping retrain my mind so that I am at peace.

I wish I could thank her in person, but I have never met her.
Yesterday, I got invited for Easter celebrations at a new friend's home.
It felt nice to belong to a community and be with someone- to laugh, have fun, and enjoy good food. It felt nice to connect with people in a new place.
Today is a day that I'm grateful to see and spend time with my family today on this great holiday of easter. It was such a joy to see our children open their easter present and enjoy themselves while me and my wife sat back and enjoyed the moment. I'm also thankful that we get to eat some great food later today.
It benefits me because It's a day where you don't have worry about anything and just enjoy the beautiful weather and the time I have with my family.
A lovely Easter dinner this evening.
Made me feel I'd contributed to making this a successful holiday.
Katarina
- April 16, 2022
I feel grateful for Matt trusting me in his home and to look after his dog, Willow. I love this place. It is so quiet and peaceful. I am feeling so content and happy here.
I have lived in a lovely home for a week and I have enjoyed the responsibility of looking after Willow :)
My best friend who happens to be my boss has been instrumental in my professional development as a trainer and has guided me in a parks and rec management major. He has helped me get two interview to move up with the city although i didn't get it, I'm grateful for the opportunity that not a lot of people have had.
It has benefited me because I get to go back to the place that I started my career with, but I come back with so much more experience that will help me thrive in the company I'm going back to.
Michaela
- April 15, 2022
I enjoy my in-laws and I'm glad we get to have an enjoyable road trip together
I get to talk through things and learn from spring.
They reach out to see how I'm doing.
Their actions make me feel good and wanted.
I'm grateful for having the willingness to heal.
It has and does change my life for the better. In turn it helps those around me.
I made them breakfast.
I felt good that they were taken care of.
A lovely sunny day where we were able to have coffee outside this morning.
Made me feel good and very happy. A real mood boost.
My mom invited me to go up to Sedona for the day.
I love spending time with her and she is my best friend, any time with her is worth my time.
Like I do every day I just wanted to give God is gratitude today because he has just given me so many blessings and Joy's in my life that I've learned to be grateful for. No matter how small or big I'm always appreciative for what he has done for me.
It benefits me because I woke up this morning my family woke up this money and he has given me and my family the ability to put a roof over our heads, clothes on our backs and food in our bellies. He also gives us the ability to pray the same for others.