What are you grateful for?

Shara
- November 25, 2022
My niece visited with me. She loves stened to my stories and shared some of her own.
I felt loved, appreciated and valued.

Maryann
- November 25, 2022
Yesterday I wrote about expecting a feast for dinner, something I was able to take for granted. I am grateful that I can take such privileges for granted, and I hope I am always aware of this. Also, the dinner was excellent, everyone got along well, and everyone was healthy. That's a lot!
I felt relaxed and happy.

Maryann
- November 25, 2022
Yesterday I wrote about expecting a feast for dinner, something I was able to take for granted. I am grateful that I can take such privileges for granted, and I hope I am always aware of this. Also, the dinner was excellent, everyone got along well, and everyone was healthy. That's a lot!
I felt relaxed and happy.
Theresa
- November 25, 2022
yesterday I adopted a 1 year old cat that was rescued from a cat colony. She was very nervous and hid under my office desk the entire time and today she finally let me feed her a treat and i heard purring! i feel so grateful for the chance to have a cat and for the chance to build trust with the cat. it's so encouraging when i see little positive steps into taming her
made me feel excited and happy!
I said yesterday thanks to a business partner for helping me out quickly in a difficult situation last week and I got a big thanks in advance for doing what I did in our joint venture.
It felt quite good and I would not have expected a thanks from that person ever. So it was for an "aha" - be kind an people will also give you a feedback that wouldn't otherwise.
Luz Alba
- November 24, 2022
Por la oportunidad de cumplir un sueño y de vivir una nueva experiencia que promete mucho
Me da la posibilidad de mudarme con un trabajo estable que me permite realizar además, otros proyectos
Jeremy
- November 24, 2022
This is actually five--count 'em, FIVE--gratitudes nested into each other.

Many divorced parents will know and understand this experience. I finally moved out of the home I shared with Shelly in late October 2015. Doing so scuttled our Thanksgiving plans. Since we have no family in the Bay Area and my social life was in disarray, this meant that Liko and I had nowhere to go on Thanksgiving--which was pretty much a crystallization of all my fears about busting up my family, as I thought of it then. (Here's how I think of it now: Liko, Shelly, and I are always going to be family.)

Michelle naturally invited me to spend it with her family, but I felt like it was far too soon to try to shove Liko into a new group of people for a holiday like Thanksgiving, given the upheaval in his life. However, when I discussed this dilemma with my father, he said something that turned out to be crucial: "If Michelle is your future, go toward her."

I took his advice and we spent Thanksgiving with Michelle's family. And you know what? It went great. Because Michelle has a great family. I don't actually remember very many details about the actual event; for me in this highly emotional period, it was all a blur. But I remember the only thing that mattered to me at the time, which is that Michelle's parents, sisters, aunt and uncle, and cousins welcomed Liko without hesitation into the family. That's been the case ever since. And later, they welcomed my dad to Thanksgiving as well.

It's now seven years later. I'm still Liko's dad, of course, and I'm still partnered with Michelle, but I'm also partnered with Adele. Shelly is in town and staying with us, and with my blessing she took Liko to spend Thanksgiving with the same friends she spent it with seven years ago. I'm spending it with Michelle's family as usual. But, for the first time, Adele invited me to spend it with her family in the Bay Area. When Michelle found out, she urged me to spend Thanksgiving with Adele and her people, but for various reasons I decided to stick to the original plan.

That was all pretty convoluted; my family situation might be more complicated than most people's. (Or is it?).

OK, ready for the five gratitudes? I'm grateful to my father for giving me the push I needed, all those years ago; it was exactly the right thing to say. I'm very grateful to Michelle's family for taking us in, and specifically for welcoming Liko and my father to Thanksgiving. I'm grateful that Shelly is alive and here with us, and spending Thanksgiving with friends who adore her, and for the fact that Liko can spend it with some of his childhood friends. I'm grateful to Adele for inviting me to her Thanksgiving. And (finally) I'm grateful to Michelle for encouraging me to go, even though I decided not to. Maybe next year?

I'm sharing this with a goofy picture of Michelle, my dad, and Liko at a Thanksgiving at Michelle's godparents house, because that seemed most appropriate.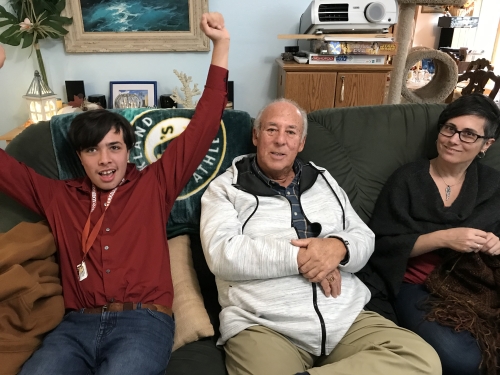 Maryann
- November 24, 2022
I don't feel well today but I am not required to do anything because my daughter is preparing the feast and all I have to do is decide whether or not to eat dinner with the family. I feel like we have all had different versions of the same illness and mine came back at 3am today. After staying at a distance for 3 weeks, I was in close contact with everyone yesterday, so if I have something new, they will have caught it from me.
I can rest and relax and hopefully feel better by dinner.

Tasha
- November 24, 2022
My neice surprised me by sending me flowers for my birthday!!!
I felt loved and appreciated

Shara
- November 23, 2022
My therapist- she has s amazing. She is thoughtful, attentive and knowledgeable. I appreciate her help and support. Today, she shared tools that I can readily use. She also normalized some of the difficulties I am experiencing.
Feeling heard helped me feel more grounded. The new tools and the reminder of old ones helped me get through a difficult night, and I am more confident about making it through the holiday.
John Peter
- November 23, 2022
All shutdown plan was completed ahead on time and operation started early.
I feel proud for my team's accomplishments.

Kris
- November 23, 2022
I cancelled my vacation day for the day after Thanksgiving so none of my other co-workers would have to cancel. They were thankful they didn't have to give up time with their family.
Happy.

Maryann
- November 23, 2022
After 3 weeks, my sweet granddaughter is healthy again.
And after 1 week,my daughter and I are healthy too. Today I was able to play with my 4-year old sidekick for around an hour! I have missed her so much. We had a truly joyful reunion.
I have a deep and joyful bond with my granddaughter, but when she is sick I cannot go near her. When we play together, the bond grows. And today we played together.
He parked further back in my driveway to give me more space to back up.
Let me know that he was thinking about the possibility of my nicking his van in a nice way.
Theresa
- November 23, 2022
I recently moved back from the Arctic. I lived in Nunavut for 3 years and learned about the hard living conditions that people are forced to live in. Lack of housing is a huge issue for people living there and this creates a long list of other issues (mental health, physical health, abuse, violence, and so on)
Moving back to Nova Scotia into my own house is a HUGE privilege that i was taking for granted and now that i see how lucky i am i feel extremely grateful. Having a room that allows me to sit here and type on this laptop in safety and privacy is not something everyone experiences. Everyday i wake up in this house i always think "wow i'm so privileged and need to be grateful"

Shara
- November 23, 2022
I was charged $70 for something unexpectedly that was supposed to be free. I sent emails to the company and was beginning to feel frustrated by what felt like a lack of response. I received an email the day I was feeling at the end of my patience. The person sending the response was kind, gracious and thorough.
It was such a relief to have this taken care of. Not only did it reduce my stress, I also feel a bit better about the company.
I went for a walk on a beautiful November 21 day.
Nice nature Rx.

Maryann
- November 22, 2022
My whole family is coming out of a period of sickness, beginning 3 weeks ago with the preschooler. Everyone else has had some version of sickness beginning a week ago. But now we are all on the mend and so grateful for our returning health!


I am just incredibly grateful that my particular sickness has come and gone.
Jeremy
- November 22, 2022
The holidays can be tough for me and for my partner Adele, for not-dissimilar reasons. The other day she said something to me that was so insightful, about a kind of loss we have in common--something that we've both struggled to let go of. She was being so vulnerable with me that it hurt, and I felt less alone with my own loss, knowing she understood me and also understood what was happening inside of herself. That week we'd been veering dangerously close to a fight, but that moment alchemically turned our escalating anxiety and anger into intimacy and mutual support. This isn't an isolated incident. Recently, we've been so good to and with each other. We've been nudging each other into being good—not perfect, but better than we've been. The process wouldn't work if it were one-sided; it's taken both of us together to move forward. I'm so grateful to her for that.



Tallulah
- November 22, 2022
Parents took the 3 older girls so we could have a quiet day at home.
Got to do some mental health stuff
Rachel
- November 22, 2022
I sent out a gratitude worksheet and challenged the agency to complete it over the next 30 days and share with their colleagues
Great, she then shared Thnx4 with me and I am excited to utilize this platform
Rachel
- November 22, 2022
a nice weather day where I could go for a walk
I got in a walk outside that I know will not always be available to me, I spoke to my sister and love those conversations and check ins with her

Shara
- November 22, 2022
I reflected on the opportunity I have had to get an education. I am the only person in my family of origin to get a four year degree, and then I also had the opportunity to get a Master's. I was able to do this as a single mom, usually working a full time job as well. This has not only changed my life, but it has changed the lives of my children in many positive ways.
We were showered with love and support during the process, and did not feel like "a project." My daughters and I all felt a sense of accomplishment- we did this together. I was able to enter a profession I love, and continue to learn. Financial strain was lessened and my family and I climbed our way above the poverty line. Both of my children attended college. All three of us love to learn and grow. We are all active in our communities.
Andrea
- November 22, 2022
checked-in on me
felt less alone
John Peter
- November 21, 2022
Our shutdown is almost finished and all my team members has done a wonderful job completing their respective task. I am very thankful for the hard work and perseverance.
Completing our Shutdown plan will reduce equipment downtime and increase equipment availability.