What are you grateful for?
Myriam
- November 7, 2022
I am grateful for the opportunity to help students and alumni to put together interships and job search strategies so they can meet the needs of the community and industry.
It makes me feel that I am fulfilling my purpopse serving the SCU students and alumni.

Desmond
- November 7, 2022
My friends give me advice on my art and make me feel good about what I draw.
It gives me more confidence in my work and helps me improve
As a MRI technician, I performed a woman's breast scanning. Before she entered the MR room she looked uncomfortable and annoyed by something. But right after the examination, She expressed gratitude to me, saying thank you. It was unexpected to me that she would gave me a warmhearted word.
I feel grateful vice versa.
Paintballing
Sunday funday

Maryann
- November 6, 2022
She brought in my groceries and fussed a little about my shopping trip during a likely resurgence of Omicron. And she sent me a very helpful article.
My daughter often makes me feel loved and cherished.

Tom
- November 6, 2022
I received a text this morning from a friend I've known for over 50 years whom I love dearly and suspect is genuine soulmate.
Valued and loved beyond belief!
He came to Busan to meet me after his business trip. It made me grateful for him.
I missed him for a long time. Meeting him gave me a sense of relief and happiness. It made my whole day glorious :)

Tom
- November 5, 2022
They took me with my with them and my 3 year old grandson to brunch and a halloween party.
It made me feel valuable!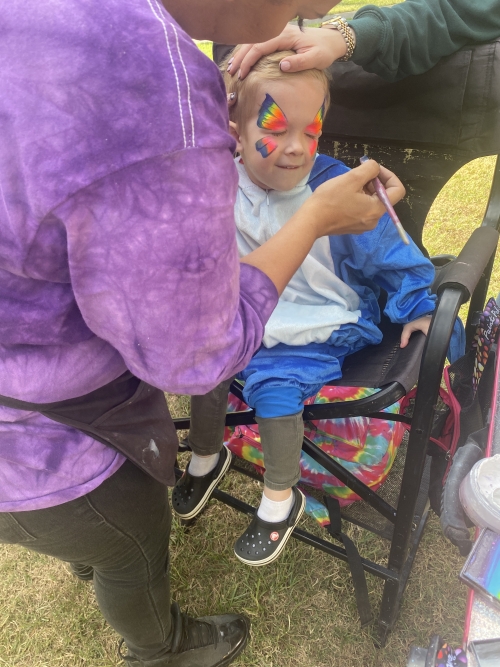 Judith
- November 5, 2022
My sister and I had so much fun together. We share the "hard" stuff.
I was able to share my grief and be comforted.
So many things to be thankful for these days. The beautiful weather, being happy in my continued employment, a very loving spouse... My birthday this weekend gives me pause to be so grateful for being so blessed in my life. A gift of complimentary tickets to a musical performance that I really wanted to go to, but the tickets were a bit out of my budget. A delightful call with my sister, with whom I've had a difficult relationship--she was excited that I invited her to visit at Christmas. In my 66 years on the planet, this will be the first time she visits me on a holiday. AND (drum roll, please), a frustrating construction project at my home that has been going on for 2 years is coming to a close. I'm so excited not only to not have to live in the dust, but to have full use of my whole home with the additional spaces. Wow. Bounty. that's the only word for it.
Luz Alba
- November 4, 2022
Gracias por tanto amor, por cuidarme y preocuarse por mi!!
Me hace sentir especial, querida y sobre todo me impulsa a estar saludable.

Maryann
- November 4, 2022
This project has helped me to stay off social media and it is helping me feel steady and calm even though the election is 4 days away. I feel needed and appreciated by my get-out-the-vote group, and my phone banking skill has improved a lot, where I now feel confident and impactive.
Feel needed and appreciated and very competent.
Nicole
- November 3, 2022
Taking my walk this morning I enjoyed the crisp fall air and seeing that the leaves are starting to change. Fall is always my favorite part of the year!
Made me feel happy!
Luz Alba
- November 3, 2022
Agradezco que soy una mujer inteligente y que no se da por vencida, que puedo resolver situaciones en las que solemos pedir ayuda y yo logro salir adelante y resolverlo.

Desmond
- November 3, 2022
My mom drove for a really long time today. Traffic was awful
I was able to get to school. She seemed really upset that traffic was so bad but she still drove me
Jeanette
- November 2, 2022
I am to purchase RX and not worry if I have money for them & food.
Delilah
- November 2, 2022
Has been such a huge help through difficult times. Always there to listen and help.
Made the situation less stressful situation.
Luz Alba
- November 2, 2022
por mi capacidad de pensamiento, de reflexión
Me permite hacer cosas nuevas y diferentes, tener ideas para seguir adelante

Catherine
- November 2, 2022
Today I tried to cultivate gratitude for my mother. She can be quite difficult to be around. I've spent the past 10 days helping her through numerous doctor's visits and one surgery. And she definitely tries my patience. But today, I went for a walk and thought about all that she's given me and how much she wants me around. And I thought how grateful I am to be loved by her, even though her expressions of love can feel like nagging and stubbornness. In truth, this is how she shows me that she cares about me.
My mother has given me the gift of life and cared for me throughout my life. Being grateful for her helped me have more patience and compassion for her.

Maryann
- November 2, 2022
Texted me and we had a long conversation about children we love. I had not heard from her for a couple months, and although I know she is extremely busy with a very young family, I was worried that I had offended her. I am a little insecure 🥴. But we had a lovely e-chat and I am so happy to hear from her. She is a person I greatly admire and I treasure her friendship. We have nothing in common in our social circles, but we shared an experience for 5 years and for me, the bond is permanent. Thank God for people like K.
Reassured me that an important friendship is still strong.
God woke me up in time today when all my alarm clocks failed
I would have been late??
But also it's Yahwehs kingdom
Jsem moc vdecna za moje studenty a za praci s nimi. Jsem moc vdecna za jejich nazory a za to ze se od nich ucim. Za to ze se s nima tolik nasmeju. Za to ze se presouvam doprava a jsem ja ja. ♥️ Diky mamincine lasce a pomoci.
Citim se podporena.vyznamne.
Luz Alba
- November 1, 2022
siempre busca que me supere y que termine los proyectos
Siempre busca que me supere y que termine los proyectos que tengo pendientes y hace que nuestra amistad se mantenga
Tthomas
- November 1, 2022
im grateful for my home. I work with people who have lost their home. Home is a safe place and I am very glad to be here with my family.
keeps me safe.

Alexander
- November 1, 2022
"Means TV" is sanity in the newsstream. THANK YOU!
I don't feel like one of the only communists in this part of the world.