What are you grateful for?
Gayathri
- August 23, 2023
A gentle calm morning at the apartment, Everest asleep, and everyone else departed for france/italy
A quiet moment to gather my resources and savor coffee and fresh pita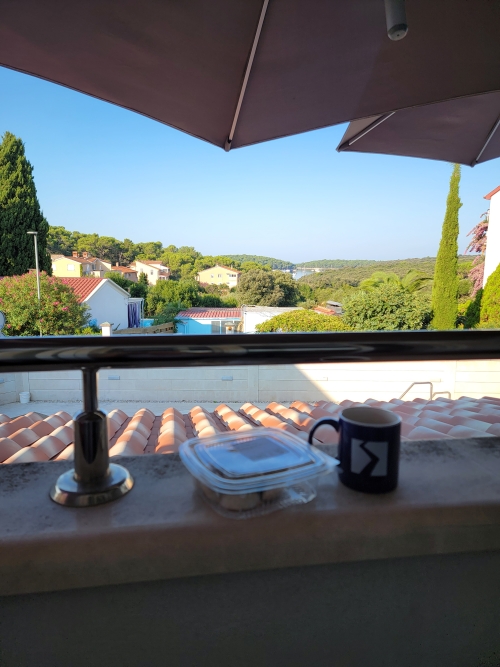 I really enjoyed my shower today, listening to the podcast Ologies by Ali Ward ☺️
I heard about this site and am looking forward to trying it!
Gayathri
- August 23, 2023
An elderly neighbor across the street enthusiastically flagged us down and was gushing over the baby. We had a patchy back and forth in French, after unsuccessful attempts in Italian, Croatian, and something else. She gave Everest biscuits and kissed his hand when he shook hers.
She made me feel so welcome and all the social anxiety of a tantruming toddler in a quiet rural neighborhood melted away, seeing how delighted she was to see him.
Gayathri
- August 23, 2023
Reliable and always comforting presence and quiet support with this wacko toddler
Keeps me sane
Gayathri
- August 23, 2023
Fresh fig from the neighbors tree
A first experience having fresh fig, pale green skins that easily give way to reveal a succulent sweet jammy interior studded with seeds that dissolve in the mouth
Rebekah
- August 23, 2023
I had therapy yesterday, and it was very uncomfortable, but helpful.
My mental health issues are slowly being resolved and I don't like it but I need it.
Remembered me and and my duties. She reminded me about something I need to do today.
I should be able to do the lesson today.
Remembered me and and my duties. She reminded me about something I need to do today.
I should be able to do the lesson today.
Caesar Herman
- August 23, 2023
My pets giant giving a big smile
I feel so happy that I have a non judgemental pet

Sara
- August 22, 2023
My previous neighbor went to Walmart and got the new kitten formula for me.
I learned the kitten needed formula and I saved the time and money of going to Walmart.

Jasmin
- August 22, 2023
My work with excelency
Proud and thankfull
Rebekah
- August 22, 2023
Morning yoga with my MIL on Monday mornings :) yoga is starting to become a great start to my week and keeps me active and engaged with my Mondays, which I am super grateful for.
I am getting more flexible and have more capacity to do the hard parts of yoga with more ease. I am also leaning on my yoga practices with my daily rhythms. It's been super nice to have a weekly self-care rhythm.

Sara
- August 21, 2023
When I got to work on Friday, I could hear a kitten screaming from my car. It was stuck in my engine area under the car. I called my hubby for help and he came. After about an hour the hubs was able to reach the little one which we then brought home.
Mu hubs Actions benefited me because I would not have been able to drive my car home none the less do my job. Plus, now I have a BABY kitten named Peak a boo

Sara
- August 21, 2023
My hubby was grateful because I made dinner, started dinner for the next day, and washed all the dishes for him.
It made me feel good that he was happy!
Shanthi
- August 19, 2023
Received us well when we went to varalakshmi Vratham puja
Felt special
Chloe
- August 18, 2023
)He accepted my very overdue phone call with warmth and compassion (he accepted me even though I made mistakes).
I have set my water glass down! I no longer feel guilt and shame around not calling him because.. I just gave him a call!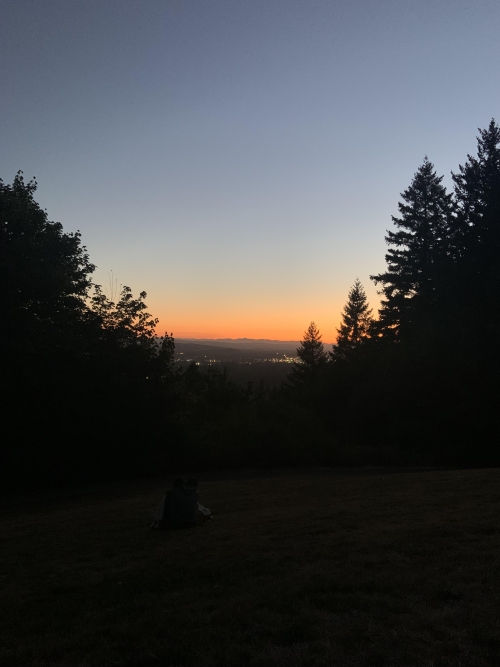 Sara
- August 18, 2023
I felt grateful that my hubby came to my work to help me get a BABY Kitten out from the engine area of my car.
My Hubby's actions benefited me because after realizing the kitten was stuck in my car's engine area, I would not have been able to move my car. I need to be able to drive to make my deliveries.

Sara
- August 17, 2023
I was invited to interview for a great opportunity at an awesome company, but unfortunately I was unable to make the scheduled interview. I shared my regrets and asked to reschedule. Fortunately for me, they rescheduled for Monday and I'm available all day.
This benefits me because I could have lost the opportunity of a life time. I now have time to find a suit that fits, prepare for Q+A and a typing test, and mentally prepare.

Sara
- August 16, 2023
I have been searching for a new career opportunity and it just so happens a good company has called to interview with me this week. Fingers crossed 🤞!
This benefits me because I may have found my new career opportunity with Genesis Biotechnology Group. Meaning I'll finally have the medical insurance I need along with a great position within the company.
Deborah
- August 16, 2023
This one might seem silly if you are a confident driver. I always say thank you to whoever is watching out for me when I arrive at my destination. I don't often have to make long road trips, but I don't enjoy driving on these trips. Sometimes, I just have to get in the car and go if I want to get somewhere!
Just made it through a 6-hour drive with no drama. I am grateful!
Builds my confidence.

Sara
- August 15, 2023
I woke him to make sure he found his phone and to find out what time he had to be up.
I was happy he was pleased with me helping him.
Rebekah
- August 15, 2023
All my friends came to my birthday party this weekend and stayed for hours :) all the husbands grilled and got the food ready and all the wives went swimming and hung out and it was so much fun.
My birthday has been a sore spot for me in the past, but this year even my parents came and made me feel special. All my friends showered me with love and it felt so incredible to be so loved.

Sara
- August 14, 2023
I'm so grateful to my hubby who is not feeling very well at all. He still managed to be nice enough to pick up smokes for me when he got his own.
I didn't have worry about having to run out while being sickly myself.
Chloe
- August 14, 2023
Rachel re-introduced me to Ashwaganda, a winter cherry that promotes relaxation. I have been feeling very anxious and manic recently, and the Ashwaganda is helping me relax. She is also letting me stay in her second bedroom! I am grateful to have such a generous and kind woman in my life.
I am feeling much calmer! I also have a new way to handle my anxiety too :)